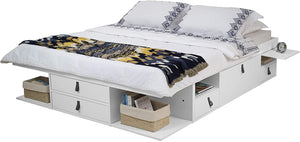 Memomad
Memomad Bali Storage Platform Bed (Full Size, Off White)
Sale price Price $839.00 Regular price $899.00
Memomad furniture ...
... are designed to fall in love!!
Our Brazillian furniture projects are a link with the quality, design and functionality.
Bali Bed …
The BALI bed not only offers comfort, but also plenty of storage space to keep your personal belongings, decor, clothes and bed linen. This beautiful and functional bed brings an abundance of well distributed compartments. It is smart chic design complemented with elegance from the eco leather handles.
The wood ...
In our furniture the wood used comes from trees that have been specially planted as a raw material. Since it is a 100% natural material, the wood can show small variations in color and structure. This is a special touch which only the natural material of wood offers you. The CARB-certified MDF used (Medium Density Fiberboard) is a high grade, composite material that performs better than solid wood in many areas. Made from recycled wood fibers and resin, MDF is machine dried and pressed to produce dense, stable sheets. We care deeply about air quality so all our MDF follows the California Air Resources Board (CARB) Standards - the world's strictest formaldehyde emission standards for composite wood.
The assembly ...
This piece of furniture is supplied disassembled. Together with the individual parts of your furniture you will get a detailed assembly instruction, which explains everything step by step. It is important to read and follow the assembly instructions to avoid unpleasant surprises.
Features
BEST STORAGE BED: The sturdy Bali Platform Bed is all made in MDF CARB Certified and has synthetic leather handles. Includes the bed bases. Thinking about your safety, all edges are rounded
2 COLORS AND 4 SIZES: Comes in Caramel and White Colors and is Available in King, Queen, Full and Twin sizes
THE ASSEMBLY: This bed is delivered disassembled. Along with the individual parts of your piece of furniture, you will receive detailed assemble instructions that explains how to put together in detail step by step. It is important to read and follow the assembly instructions to avoid unpleasant surprises. The 4 boxes are also arranged in order, so you save a lot of space in the room.
PLENTY OF STORAGE SPACE: The bed has 6 six drawers, 4 four shelves, 2 two compartments with doors and also 2 two pullout shelves, that work well as a nightstand, for your favorite frame, reading books, coffee cups, cellphone charger or alarm clock. This piece of furniture optimizes your bedroom space. As a bonus, you still have space enough for suitcases or boxes under the slatted base. This bed is perfect for small rooms as it offers as much space as a 2 door closet!
HIGH SUPPORT CAPACITY : Total 880 lb. Largest compartment: 33 lb/each. Smaller compartment: 11 lb/each. Drawers: 11 lb/each. Pullover shelf: 6,5 lb/each. Insertion mattress depth: 3 inches and the mattress area is W x L: 53 in x 75 in. Does not include a mattress
Specifications