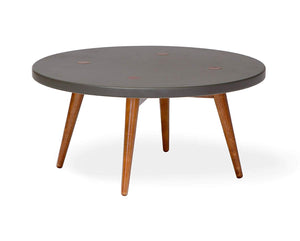 Memomad
Memomad Biscoito Fino Coffee Table (Graphite)
Sale price Price $109.00 Regular price $199.00
A perfect fit for your living room, the Biscoito Fino COFFEE TABLE has a retro feel, but at the same time, a modern face. Its design makes it unique and incredibly special, matching with most of the different styles of decor.
The different table sizes and heights from the Biscoito Fino Line fit together perfectly, creating a beautiful set
Fashionable toothpick legs made from solid eucalyptus wood for extra durability
Free standing piece - Diameter: 27,6 in - Height: 12,6 in - Weight: 21 lb - Support Capacity: 45 lb
Fits your Living Room, TV Room or Bed Room - Colors available: Off White, Sky Blue or Graphite (our colors may change depending on your monitor resolution). Structure in CARB MDF and Varnished Eucalyptus Wood
Memomad furniture ...
... are designed to fall in love!!
Our Brazillian furniture projects are a link with the quality, design and functionality.
Biscoito Fino Line …
The Portuguese name Biscoito Fino means Delicate Biscuit. It is an analogy to its lightness and delicacy, another touch of elegance for your home. A dash of retro with the right dose of design.
With the well-being of our planet in heart, we chose to produce its top with CARB MDF lacquered ecological structure. The base is made of varnished eucalyptus wood. There are different colors available. Oh, all the pieces on this line are equally beautiful, relaxed and the coolest thing is that they complement each other. Here's a tip: keep clicking to fall in love with each one of them.
The wood ...
In our furniture the wood used comes from trees that have been specially planted as a raw material. Since it is a 100% natural material, the wood can show small variations in color and structure. This is a special touch which only the natural material of wood offers you. The CARB-certified MDF used (Medium Density Fiberboard) is a high grade, composite material that performs better than solid wood in many areas. Made from recycled wood fibers and resin, MDF is machine dried and pressed to produce dense, stable sheets. We care deeply about air quality so all our MDF follows the California Air Resources Board (CARB) Standards - the world's strictest formaldehyde emission standards for composite wood.
The assembly ...
This piece of furniture is supplied disassembled. Together with the individual parts of your furniture you will get a detailed assembly instruction, which explains everything step by step. It is important to read and follow the assembly instructions to avoid unpleasant surprises.