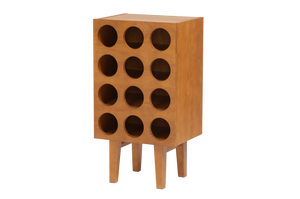 Memomad
Memomad Charme Retro 12 Bottles Solid Wood Wine Bottle Cabinet
Sale price Price $145.00 Regular price $299.00
Jaw-dropping piece style evokes a time long past with its clean lines, elegant sensibility, and tapered legs. Update your home décor with this retro-modern bottle rack

For our furniture we use wood from trees that have been specially planted as raw material. As it is a 100% natural material, the wood can have small variations in colour and also in structure. This is not a defect, but a special touch that only the natural material wood offers you

Assembly: This Wine Rack is delivered disassembled. Along with the individual parts of your piece of furniture, you will receive detailed assembly instructions that explain how to put together in detail step by step

Support capacity: 33 lbs on the top, up to 12 bottles
Memomad furniture ...
... are designed to fall in love!!
Our Brazilian furniture projects are a link with the quality, design and functionality.
Charme Wine Cabinet …
Renew the decoration of your house and organize your wine bottles in the Charme wine cabinet. Designed to the modern and bold design of the Charme Line this shelf has space for 12 bottles.
So you can conveniently store your favorite wines. The larger upper niche is ideal for larger bottles and wine glasses.
The wood ...
In our furniture the wood used comes from trees that have been specially planted as a raw material. Since it is a 100% natural material, the wood can show small variations in color and structure. This is a special touch which only the natural material of wood offers you.
The assembly ...
This piece of furniture is supplied disassembled. Together with the individual parts of your furniture you will get a detailed assembly instruction, which explains everything step by step. It is important to read and follow the assembly instructions to avoid unpleasant surprises.