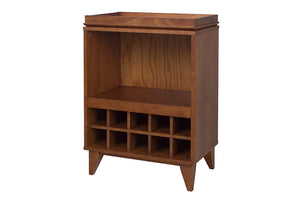 Memomad
Memomad Lotus Wine & Liquor 10 Bottles Floor Rack Cabinet
Sale price Price $179.00 Regular price $369.00
UNIQUE DESIGN: Renew the decoration of your house and organize your wine bottles in the Lotus wine rack. The top shelf of this storage cabinet is actually a fixed tray with a mirror bottom it can be used as a coffee cart. ideal for organizing and displaying your favorite bottles in any indoor space, like dining room, kitchen, or wine cellar and it will bring much more charm to your surroundings

THE ASSEMBLY: This home bar furniture is delivered disassembled. Along with the individual parts of your piece of furniture, you will receive detailed assemble instructions that explains how to put together in detail step by step. It is important to read and follow the assembly instructions to avoid unpleasant surprises. Have fun with the assembly!THE ASSEMBLY: This home bar furniture is delivered disassembled. Along with the individual parts of your piece of furniture, you will receive detai

STORAGE SPACE UP TO 20 BOTTLES: Showcase, organize, and store your wine and liquor bottles. Horizontal wine holder spaces allows a wine bottle cork to remain moist and swelled which limits unwanted air contact. The larger upper niche is ideal for larger bottles and wine glasses

REAL WOOD STRUCTURE: Pine solid and sturdy wood. In addition to all the functionality offered by the Lotus free standing floor wine rack, its charm is guaranteed by feet with straight and geometric lines. A warm caramel color and beautiful wood grain makes a gorgeous room decoration

LOTUS MEASUREMENTS: Width 24 in - Height 33 in - Depth 14 in. Support capacity: Top shelf 35 lb. Largest Compartment 35 lb
Memomad furniture ...
... are designed to fall in love!!
Our Brazilian furniture projects are a link with the quality, design and functionality.
Lotus Wine Rack …
Renew the decoration of your house and organize your wine bottles in the Lotus wine rack. Designed to the modern and bold design of the Lotus Line this shelf has space for 10 bottles.
So you can conveniently store your favorite wines. The larger upper niche is ideal for larger bottles and wine glasses.
The top shelf of the shelf is actually a fixed tray with a mirror bottom. Use it in the dining room, like a wine cellar dresser that will bring much more charm to your surroundings. In addition to all the functionality offered by the Lotus wine rack, its charm is provided by feet with straight and geometric lines. Tray with a mirror on the surface. Space for 10 different bottles. A warm color and beautiful wood grain. A gorgeous room decoration
The wood ...
In our furniture the wood used comes from trees that have been specially planted as a raw material. Since it is a 100% natural material, the wood can show small variations in color and structure. This is a special touch which only the natural material of wood offers you.
The assembly ...
This piece of furniture is supplied disassembled. Together with the individual parts of your furniture you will get a detailed assembly instruction, which explains everything step by step. It is important to read and follow the assembly instructions to avoid unpleasant surprises.